To meet the increasingly high demands of customers, the interior design trends for resorts in 2024 are focusing on sustainable development, environmental friendliness, and meticulous attention to detail.
Using Appropriate Colors
Natural and nature-inspired colors are preferred in resort interior design, creating a sense of relaxation and comfort for guests. Harmoniously combining various color shades contributes to enhancing the customer experience.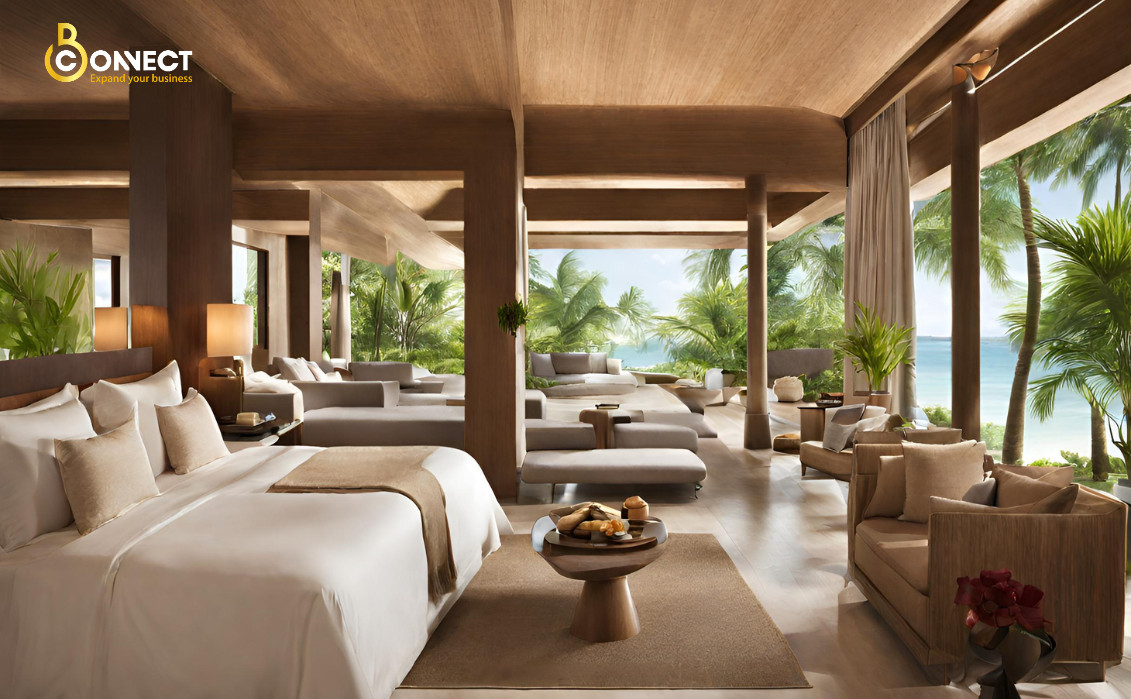 Utilizing Natural Light
Natural light plays a crucial role in creating a fresh and cozy living space. Large windows and glass doors help welcome natural light into the space, combined with the use of smart and energy-efficient lighting to create beautiful lighting effects and save energy.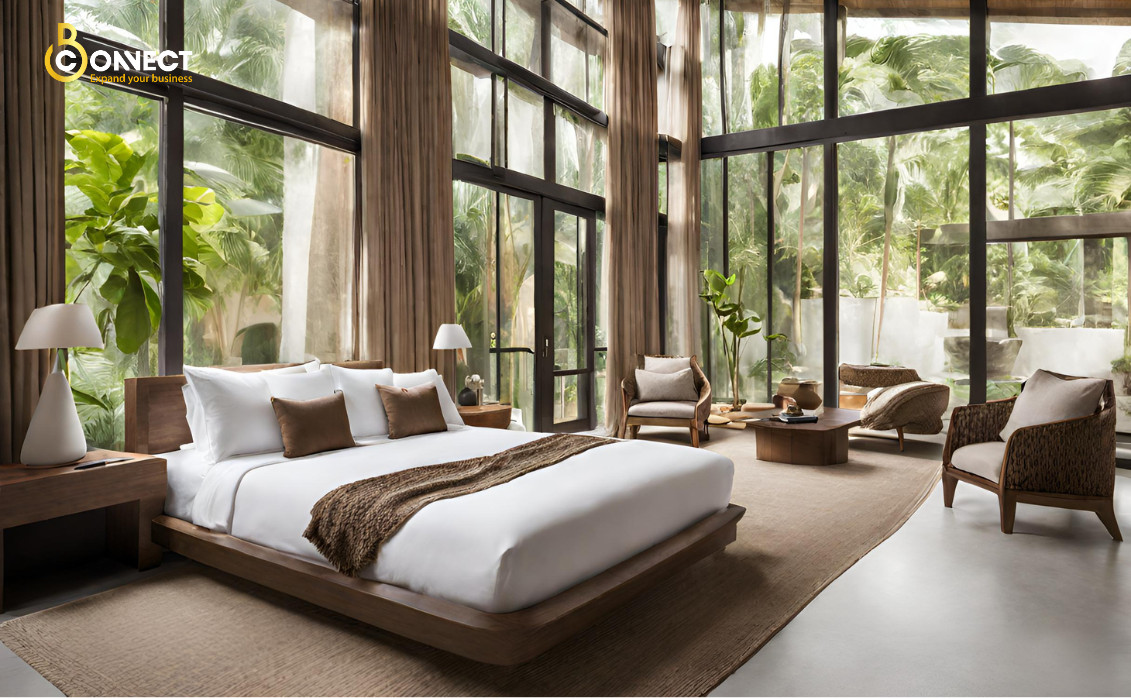 Choosing Durable, Weather-Resistant, and Environmentally Friendly Materials
Wood, natural stone, and recycled plastics are favored in resort interior design, providing high durability, resistance to harsh weather conditions, and ensuring the safety of users. Choosing suitable materials also contributes to minimizing the environmental impact and supporting sustainability.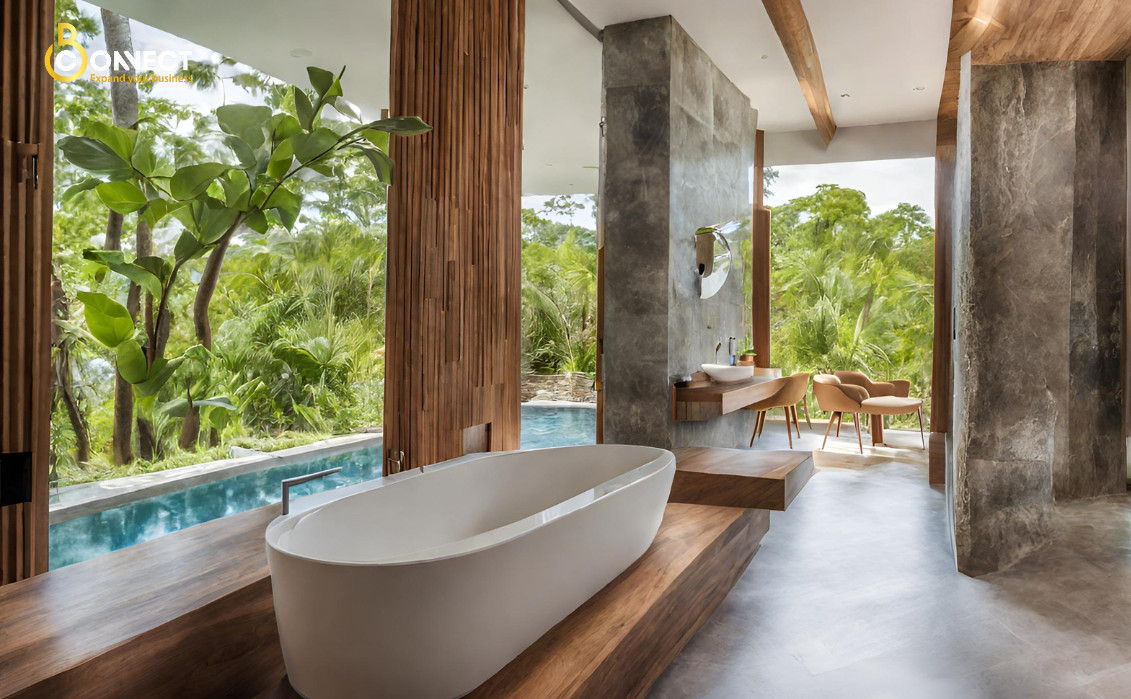 Common Resort Interior Design Styles
To create attractive and beautiful resort spaces, resorts often choose diverse interior design styles that suit their location and the region's characteristics.
Modern Style
The modern style, characterized by simplicity, elegance, and luxury, is a choice for many resorts today. Furniture is designed minimally, prioritizing advanced and smart technology to meet customer needs.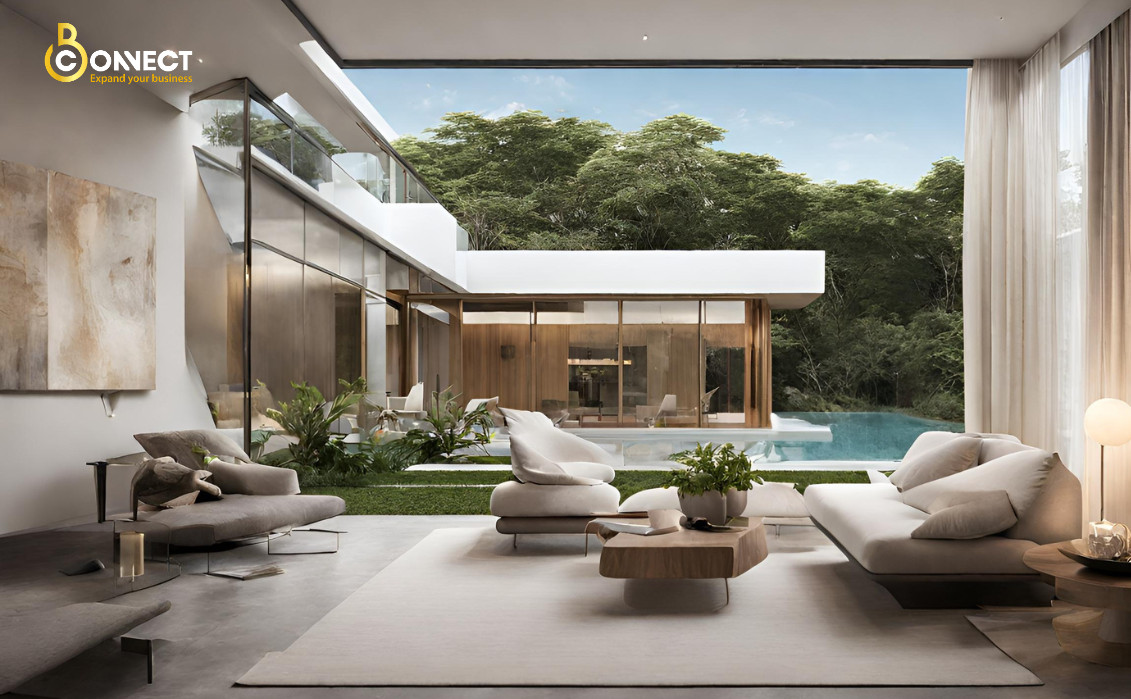 Beach Style
Inspired by the colors and imagery of the sea, the beach style focuses on creating a relaxing and resort-like atmosphere. Furniture and decorations are designed to promote a sense of peace and tranquility, helping guests truly enjoy their vacations.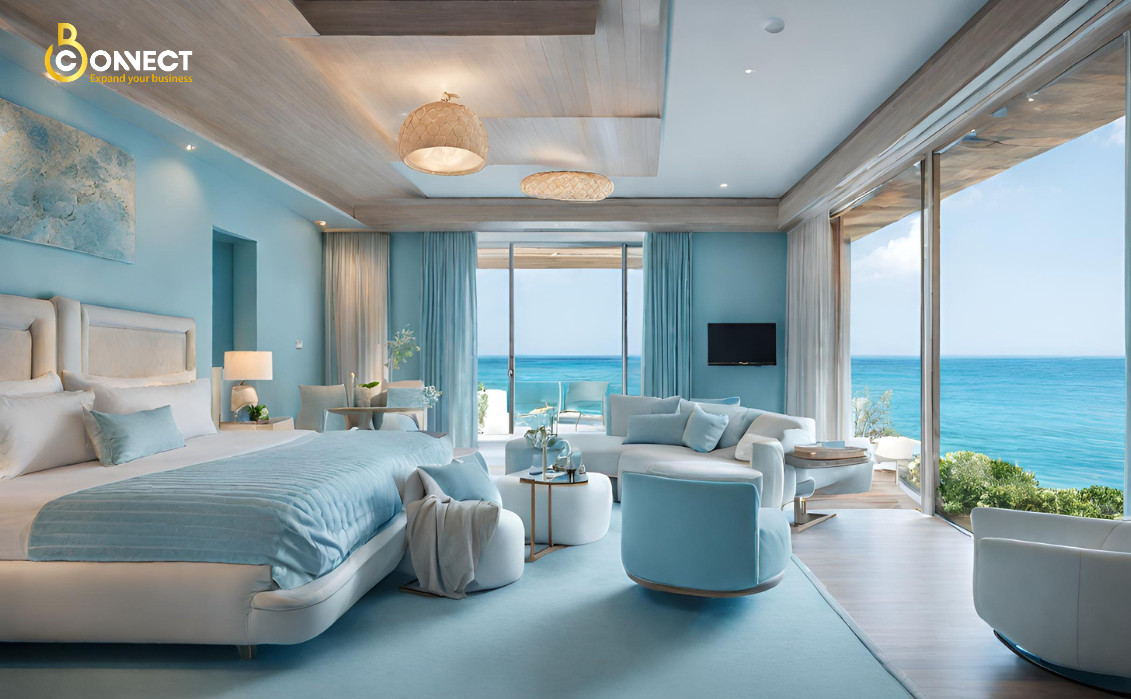 Rural Style
The rural style recreates the peaceful and simple living space of the countryside with natural materials that are close to nature. Furniture is often made from wood, bamboo, straw, or stone, bringing a homely and cozy feel to guests.

Luxurious Style
The luxurious style emphasizes class and perfection in every detail. Furniture is carefully selected from high-quality and premium materials, adding sophistication and opulence to the resort space.

Connecting with Cultural and Local Features
To create a unique and appealing resort space, connecting with cultural and local features is essential. This enhances the resort's value and attraction, leaving a special mark in the hearts of visitors.

Incorporating Traditional Cultural Elements into Design
Decorating the interior with a strong local cultural essence, combined with the use of materials and artistic products specific to the region, creates a space with a rich traditional and distinctive flavor.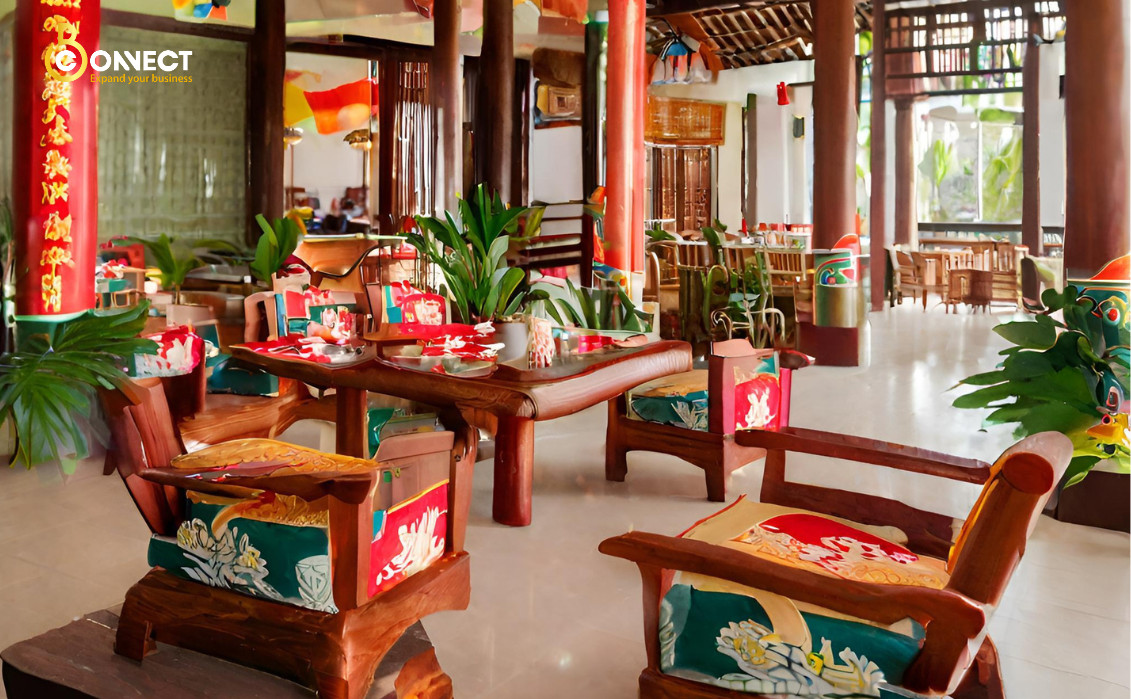 Utilizing the Natural Features of the Area
Resort design should integrate the natural terrain and landscape into the space, making use of outdoor activities and entertainment suitable for the location to create a diverse and rich experience for guests.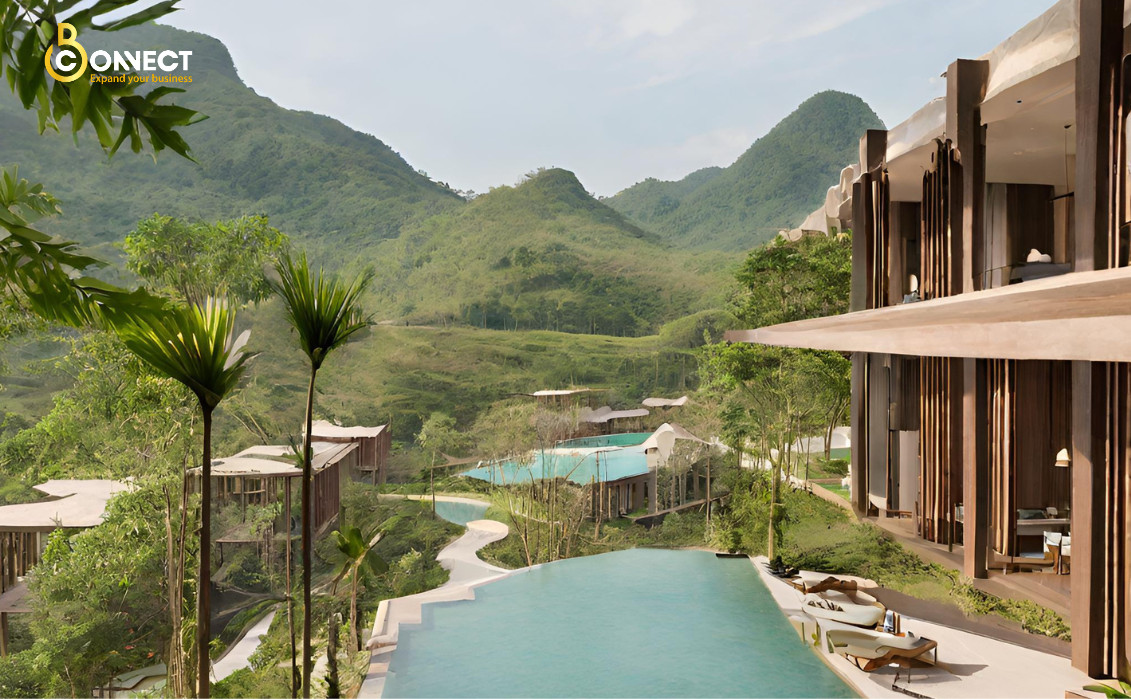 In the world of hospitality and resort management, the importance of interior design cannot be overstated. The way a resort's interior spaces are conceived and executed significantly influences the experience of its guests. It's not just about aesthetics; it's about creating an environment where visitors feel comfortable, relaxed, pampered, and conscious of their ecological impact. To sum it up, a harmonious blend of elements like color, lighting, suitable materials, and furniture is key to a successful resort interior.
Comfort: The primary objective of a resort's interior design is to offer comfort. Guests come to these places to unwind, rejuvenate, and escape the stresses of daily life. Therefore, the furniture, room layout, and even the choice of fabrics and textures should prioritize comfort. Plush sofas, cozy beds, and ergonomic seating arrangements are essential components of this equation. Creating a space where guests can truly relax is paramount, and this comfort is often the reason they choose one resort over another.
Coziness: Coziness goes hand in hand with comfort but adds an extra layer of warmth and intimacy. It's about making guests feel at home while indulging in luxury. Elements such as soft lighting, well-placed accessories, and inviting nooks contribute to the overall coziness of a resort's interior. This sense of coziness is what makes a room feel more like a sanctuary, encouraging guests to linger and savor their stay.
Luxury: Luxury is a key feature that distinguishes a resort from everyday accommodations. It's about providing that extra something special, whether it's in the form of high-end finishes, exceptional service, or unique design elements. In resort interior design, luxurious materials, exquisite detailing, and attention to the finer points can make guests feel like royalty. The perception of luxury can be a powerful draw for those seeking an unforgettable and indulgent experience.
Environmental Friendliness: In today's world, environmental consciousness is a top priority. Guests increasingly seek accommodations that not only pamper them but also demonstrate a commitment to sustainability. Resorts that incorporate eco-friendly design practices, use recycled or locally sourced materials and prioritize energy-efficient lighting and appliances appeal to eco-conscious travelers. This commitment to the environment reflects positively on the resort's image and can even lead to cost savings in the long run.
In conclusion, the interior design of a resort is an intricate and multidimensional art form. It's about crafting an environment that offers comfort, coziness, luxury, and environmental friendliness in equal measure. Achieving this balance demands a careful orchestration of elements that cater to the emotional and physical needs of guests. A well-designed resort interior not only leaves a lasting impression but also becomes a powerful marketing tool, drawing in travelers who seek an exceptional, eco-friendly, and indulgent experience.
Find more about various types of furniture and craftsmanship at: trade.bconnectcorp.com
Follow our Facebook: B CONNECT CORP