Summer's around the corner, and the hottest looks for your living room — including rounded silhouettes, natural touches and mixed materials — are headed outdoors. That was one of the big stories at the spring 2022 High Point Market in North Carolina, where furniture companies recently showcased their latest collections for thousands of buyers and designers. Keep scrolling for a sneak peek at the top trends that are making their way from the market to a patio or deck near you.
1. Rounded Corners
This season, outdoor furniture pieces had curves in all the right places, just like their indoor counterparts. Some had gently rounded corners; others took exaggerated, sculptural forms.
The new Sense outdoor sofa from Cane-line — paired here with other pieces from the Danish company — is a beautiful and relatively restrained example of the trend. Designed by Foersom & Hiort-Lorenzen, MDD, it features retro Scandinavian lines, a weather-resistant weave and quick-dry cushions. (An indoor version is available in natural rattan.
2. Natural Nods
Whether woven, wrapped or strung, natural fibers go hand in hand with these rounded designs thanks to their flexibility and their organic look and feel. Rattan, wicker, cotton, jute and their kin have been all over furniture and decor in recent seasons, both indoors and out, though manufacturers of outdoor furniture often use synthetic doppelgängers to get the same look with more durability.
For summer, many manufacturers showed fresh iterations on the natural-texture trend by playing with fiber size, color and silhouette. Pictured here, the delicate-looking strings on Kenneth Cobonpue's Papillon easy armchair, which are made of handwoven polyethylene, stretch on a frame that resembles fluttering butterfly wings. The natural motif, lightweight fibers, throne-like shape and Filipino roots suggest a modern take on a classic rattan peacock chair — a design that's also popular this season.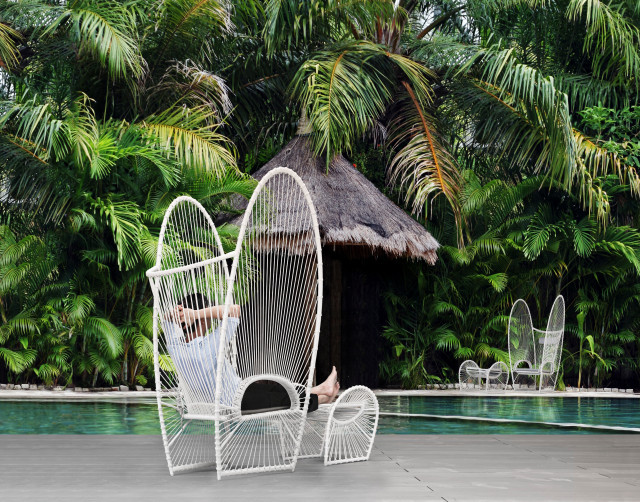 3. Indoor-Outdoor Vibes
Over the past couple of years, patios have transformed into extensions of our interior living spaces, and furnishings have followed suit. This spring, many manufacturers at High Point debuted outdoor furniture collections that mimic high-end living and dining room furniture, making them equally at home in either environment.
Kravet's just-launched KravetSoleil Indoor/Outdoor collection is a prime example. Its fully upholstered pieces, which include swivel chairs, couches and ottomans, can be customized with nail designs in outdoor-suitable nickel or brass. The coordinating rugs are so soft, it's hard to believe they're made from recycled water bottles.
4. Tropical Pops
Earthy tones will always have a place in outdoor furniture, but the market's trend forecasters predict a resurgence of color this summer, especially tropical shades of blue and orange. While easily incorporated in accent pieces, such upbeat colors also turned up in furniture frames and upholstery at this spring's market.
Chairs from Lloyd Flanders' new Solstice (top) and Southport collections are offered in more than a dozen colors of all-weather wicker, from beige to the bold peacock finish seen here. The color on the Southport's frame is customizable too. Add a coral pillow and — pop! — you're right on trend.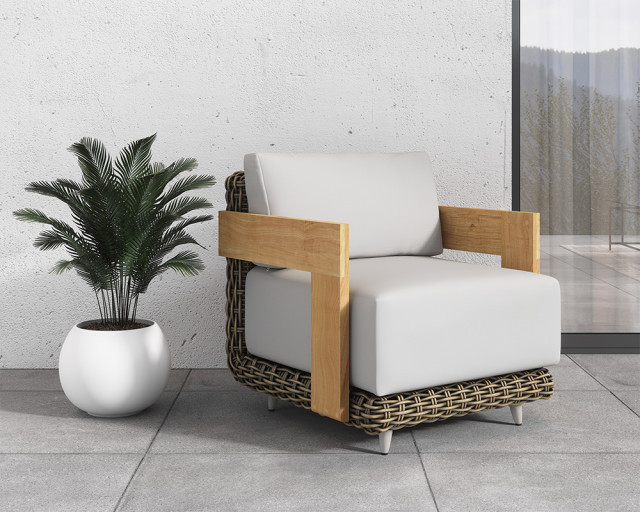 5. Mixed Materials
Many market exhibitors embraced a "more is more" approach to mixing materials and textures in outdoor furniture pieces. Whether the contrasts were subtle or bold, the variety added interest and warmth to the designs.
The Secret Garden collection designed by Roberto Lazzeroni is a particularly attractive example of the trend. One of several new collections by Poltrona Frau on display in JANUS et Cie showrooms this spring, it features teak frames, upholstered cushions, two-tone woven cotton webbing and enameled-stoneware tops in an array of colors, including the aqua pictured here.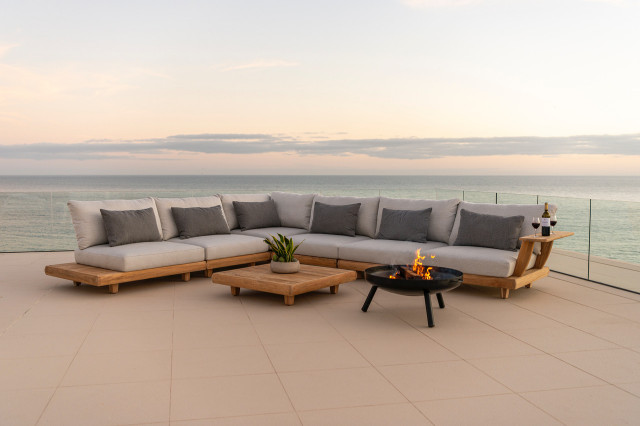 6. Eco-Friendly Elements
Many of the durable materials traditionally used in outdoor furniture are associated with environmental damage, such as forest and habitat loss resulting from improper teak harvesting and pollution from plastic production and disposal. Fortunately, with increased awareness comes greater demand for sustainable products, and at the market, manufacturers were proud to share where they've made progress.
Recyclable and recycled materials (especially post-consumer recycled plastics) were touted in many outdoor furniture and textile collections. Houe, for one, prominently displayed its ReCLIPS chairs, which feature lamellas made of Danish household plastic trash, and most rug manufacturers touted recycled PET outdoor rugs.
On the wood front, FSC-certified wood products, which come from responsibly managed forests, were available from nearly all major outdoor furniture companies. This Sunpan Potenza armchair incorporates both FSC-certified teak and recyclable materials.
7. Flexible Footprints
This Sorrento sectional from Jensen Outdoor, whose frame is also made from FSC-certified teak, exemplifies another trend that transcended the indoor-outdoor divide at this season's market: modularity. Easily reconfigured sofas, nesting and laptop-friendly side tables, and ottomans that triple as coffee tables and sofa extensions all serve to increase the functionality of outdoor spaces, which we're relying on now perhaps more than ever. Fortunately, in showroom after showroom at High Point, manufacturers proved ready to fill the need.